Fair Admission
One Admission Button is good all 4 days!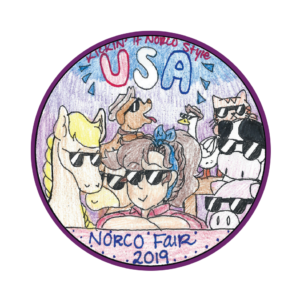 Fair Admission Button Price $15.00
(10 & under free)
---
Carnival Rides & Games Tickets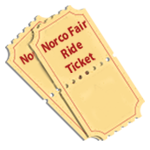 One Sheet of 20 tickets = $20.00
(3-6 tickets per ride)
$5 Daily Parking
---
Pre-Sale Ticket Special:
Buy your tickets before August 26th and save $5.00
Click on the Buy Tickets tab above.
---
Pre-sale Fair Admission and Carnival Tickets are available at the following locations:
Linda's Feed
Hay Connection
Rodeo Burger
Thrifty Horse
Everything Boutique
Rodeo Cafe
Inland Vet Supply
Sixth Street Deli
Tony's Feed
Norco's Best Burgers
Ace Hardware
City of Norco
AFS Printing
Polly's Pies
Critter Care
Cowgirl Cafe
Bob's Big Boy
Norco Feed and Recycling
On Pointe Dance Studio
Los Montes
Kahoots Feed
Definitions
Century 21 Gold
Norco Auto Tech
Cheers Liquor
Hidden Valley Chiropractic
7-11 on Sixth Street
All About Me Beauty Salon
Concerts in the Park
Wicked Pilates
---
Pre-sale tickets (purchased online or at one of the local businesses) will not be shipped.  Please bring a copy of your order confirmation to the fair.  You can either print a copy, or use your mobile device.
Pick up pre-sale admission buttons at the will call booth located at both entrances.
Pick up pre-sale carnival ride & games tickets at the treasurer booth located inside the entrance closest to the animal shelter.
If you purchased both admission tickets & carnival tickets,  please go through the entry gate closest to the animal shelter for your convenience.
---
Norco Fair / Carnival Hours of Operation:
Friday – Sunday: 4pm – 12pm
Monday: 12pm – 5pm
Questions regarding tickets? Click here to email us.